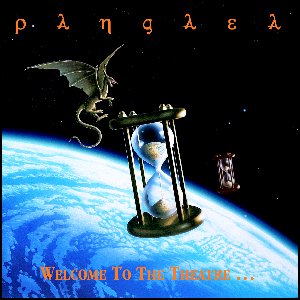 Welcome To The Theatre
(SKAN 8208.AR)
From the United States comes the symphonic-progressive rock quartet Pangaea. The band was founded in 1987 by the brothers Schenck, Andi (drums, percussion) and Corey (keyboards, guitars). In 1988, Ron Poulsen (bass guitars) took his position in the group and early the following year, Darrell Masingale (vocals, guitars) joined and the definitive line-up was born. The concept of Pangaea has always been to be a progressive outfit with a balance between creativity and accessibility. Well-crafted songs, complete with versatile arrangements, meter changes, memorable melodies, and intriguing harmonic qualities are the foundation of the band.

Immediately Pangaea began arranging material and performing at the handful of venues that would allow not only original but progressive music. The band continued down this path and recorded their first demo in 1990. Over the next four years they completed more demos (including a 3 CD, 37 song project) until in 1995 their demo release, "Liquid Placidity", captured the interest of musician / producer Robert Berry (3 and GTR). In April 1996, Pangaea traveled to California to begin pre-production with Berry. They returned in July to record their debut album "The Rite Of Passage". "...masterful guitar work, intense percussion, and various time signature changes", "...provides some tasty, classically inspired keyboard-guitar lines and creative arranging", and "...absolutely brilliant" were just some of the reviews written about "The Rite Of Passage". This album which was marketed by Pangaea's affiliate, Hargadein Music garnered the interest of Angular Records. This would soon lead to a strong business relationship.

In July of 1997, Pangaea returned to the studio to again collaborate with Berry. The result, "Welcome To The Theatre...", raises the band to a higher level. The performances are strong, the attitude mature, and the songs intimate. The album title is taken from the lyric in the chorus of 'Altar of the Dragon', a song of the inner-self. There are eleven tracks in all including the Native American influenced 'The White Shaman', based on an 8,000 year old pictograph on a cave wall in the Pecos River Valley (Texas). The socio-political 'The Fall of Rome' compares modern society with that of the ancient civilization. 'Crimson' is a multi-movement work which features many nuances of the band. The album closes with a palindrome, 'The Nightmare', in which the group explores atonality. Every aspect of this album indicates Pangaea's dedication, creativeness, and growth.

The cover art for "Welcome To The Theatre..." is masterfully done by German artist Rainer Kalwitz who has created several other works for various bands. Both the painting and recording only complement one another.

Now, with the support of Angular Records, Pangaea is ready to follow their powerful debut with another well-balanced, well-orchestrated, and worthwhile creation. Welcome To The Theatre!