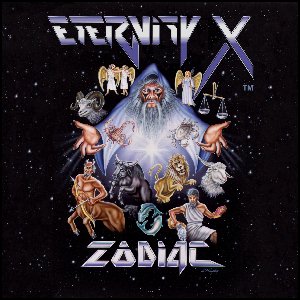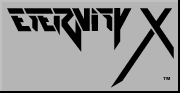 Zodiac
(SKAN 8209.AR)
With the release of the successful and highly acclaimed album The Edge, the New Jersey based HM/HR band Eternity X has added another unique facet to the genre Progressive Power Metal. The 74 min. concept album received enthusiastic reviews, being even called "The release of the year". It did not come as a big surprise that there is a big demand now for earlier works of the band. Starting with the CD release of their 1994 cassette album Zodiac, we will quench that thirst of new and old fans - worldwide. Who else than Keith Sudano, charismatic mastermind of Eternity X, can tell us most competent about the making of and the concept behind Zodiac? Let's listen to his story:

"Back in 1994, Eternity X was struggling to find itself. With the advent of James Peruta on drums we felt it was time to release a full length recording. For many months I had been battling with the idea of a concept which would span all people and all ages. In late 1993 we went in to record Zodiac and emerged in early 1994 with something that we were very proud of. Much less progressive than Mind Games (1995) or The Edge (1997), Zodiac was still a difficult recording in its own right. It was written with all the "Sun Signs" of the Zodiac in mind. We tried to capture their predominant personalities set to the backdrop of music. It was one of the most difficult lyrical excursions I have ever done, how do you make a ... "Libra" emotional for instance? Coming from the "Outside" of the feeling proved itself to be formidable indeed. I sat for hours with Astrology books and read until I knew the basic concepts of each sign. To put them to music would prove to be a colossal undertaking. Although our style has changed we still find ourselves performing songs from Zodiac on all our outings, we most likely always will. Zodiac holds a special place in my heart because it was the first release to bring us international recognition, it showed us there was a world out there with so many great people, the same people we have all grown to love and respect. Thank you all!"

On top of what you would expect from the album's CD reissue - better sound, improved graphics design - Eternity X have added a bonus track which presents the band in a very unexpected way. It's an instrumental, quite different of what you may be used to call a progressive instrumental track - so be prepared for a big surprise!

There is a place within all of us - after having listened to Zodiac, you will see a new world having opened up to you. A worthwhile experience - brought to you by Eternity X.