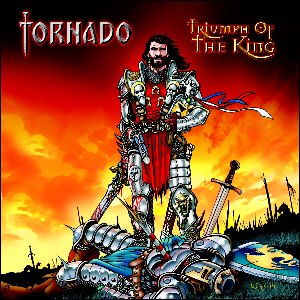 Tornado
Triumph Of The King
(SKAN 8226.AR)
This is the debut album of Tornado, sophisticated True Heavy Metal, with elements of Epic Power & Progressive Metal. The band's origin dates back to 1998, however, in the early days they were known only in their homeland Yugoslavia/Serbia. Their name "Tornado" what means "Twister" already points to the musical "twist" of various genres. They have great diversity of songs, from melodic speed metal to acoustic instrumentals. Simply, they are Iron Maiden in a progressive metal suit, mixed with old medieval, renaissance and baroque neoclassical music !
Also the band's concept is in line with its philosophy: Tornado is building an imaginary world of Justice and Truth for All. They have the ability to create intriguing songs with a very emotional atmosphere, parallel heavy and melodic, heavy and powerful. Listen to this album, and You will find Yourself in the Middle Ages, where honour and loyalty were the way of life. You will find a lot of passion and drama, reflections of the kings and dukes, warriors and slaves, enemies and traitors, miserables, poverty and enslaved people which demands Liberation and Justice.
The essential composition on the album is the 19 minute longtrack "Heavy Metal Symphony: Eternal Mystery + Epitaph". Sounds like Iron Maiden meets J.S. Bach! This number will blow Your mind away! Shorter tracks of the album exhibit powerful epic lyrics, in medieval tradition of heroes and warriors. Catchy songs like the opener "Coming of The King" and the second "We Must Revenge" have a high potential to get a lot of radio airplay. The most important strength of this band are first of all the amazing vocals by Philip Zmaher. If You can imagine Eric Adams (Manowar), Bruce Dickinson (Iron Maiden) and David Coverdale (Deep Purple, Whitesnake) in one unique person, try it !
To summarize, all fans of the classic Iron Maiden, Manowar, Dio, Helloween & Gamma Ray albums definitely will love Tornado ! An amazing and incredible killer album for all Hard'n'Heavy listeners. If you are a fan of traditional, true heavy metal, this will be right up your long-term favorite. But if You are in progressive/neoclassical metal too, if You are a fan of Queensryche, Shadow Gallery, Symphony X or Angra, You will like much of what Tornado has to offer.
Don't miss one of the mega surprises of the year !!!