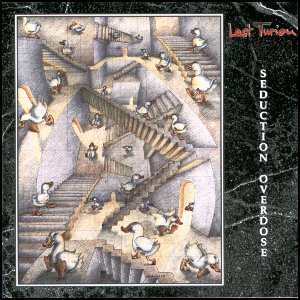 Seduction Overdose
(SKAN 8202.AR)
Last Turion were founded back in 1990 when the line-up of that time was completed by singer Martin Garden and sound technician Jörg Wrede who both gave the band the ability to finish the compositions they had been working on. Stephan Benecken (bass) and Oliver Rüsing (drums) had been playing together for about 11 years, almost the same was true for Kai Löbbert (keys) and Marc P. Imann (guit.). Still far away from any record deal, the band decided to produce an album fully on their own, using the money from pre-sold vouchers. Not compromising on sound quality they decided for a studio that had seen numerous famous musicians such as Albert Mangelsdorff, Eloy and Philip Boa & The Voodooclub.

The album, titled "Circle Logic" was first released on LP in 1991 and received excellent reviews from press and fans. As a result of their good reputation, also by concerts with the famous UK proggers Pendragon, several record companies approached the band. Finally, the album was re-released on CD in 1992 including three new bonus tracks, which at that time were already recorded in a new studio the band had built themselves.

In late 1993 first rumours about a successor for "Circle Logic" started to spread in the scene. But just before the recording sessions started, Oliver Rüsing resigned and left a vacancy at the drums. The search for an adequately talented drummer proved to be extremely time-consuming, but finally the band found Vassillios 'Lucky' Maniatopoulos who contributes a lot of fresh power to the "Seduction Overdose" album.

After three years of recording time, "Seduction Overdose" has reached a high level of quality that clearly illustrates Last Turion's musical maturity. Some of the new songs like the longtrack 'Autumn Screams' still follow in the tradition of "Circle Logic", others like 'Humiliation' or the nine-minutes-killer 'Synchromania' take the path into a more heavy direction, without losing the music's "progressive" label.

With "Seduction Overdose", Last Turion succeed in demonstrating how intelligent Progressive Rock of the Nineties has to be. An instant classic!