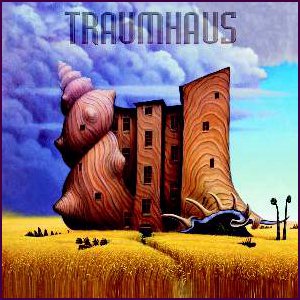 Traumhaus
Traumhaus
(SKAN 8211.AR)
The debut album of Traumhaus: elegant sophisticated Progressive Rock - with German lyrics. The band's offspring dates back to 1994, however, in the early days they were known under the name "Zweeback". Only 3 years ago - in 1998 -did the switch to their current musical style occur. At that time a radical stilistic change took place and alongside with that the band's name was changed into "Traumhaus" what means "House of Dreams".

This name already points to the musical direction the band has taken: profound music demanding thorough engagement by the listener. This is also the key reason for the utilization of the German language. Traumhaus as a German band want to have their domestic listeners digging deep into their thoughts and ideas. Also the band's name is in line with its vision: Traumhaus is building an imaginary house where all kinds of dreams flow together and can be dreamt simultaneously.

The essential song on the album is the 18 minute long track "Ausgeliefert" ('Helpless'). This song tells about the torment of a young child suffering from sexual abuse. But also the shorter tracks of the album exhibit demanding lyrics. In "Zu Spät" ('Too Late'), the abyss of human thoughts gets analysed, the hopelessness of an individual forced to a point of no escape. Despite of its difficult subject, this song - like the opener "Aufwärts" ('Upwards') - has a high potential to get a lot of radio airplay.

To summarize, all fans of the classic Anyone's Daughter albums definitely will love Traumhaus!